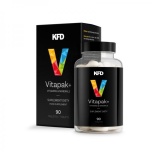 12,50 €
21 ingredients, including 18 at the level of 100% or more of the daily requirement
Almost all minerals in organic forms (lactates and citrates)
Vitapak + can be consumed by people with thyroid disorders such as Hashimoto syndrome or Graves-Besadova disease (autoimmune thyroid) - due to, for example, lack of iodine
It is ideal composition for men, in connection with a large dose of zinc and selenium - respectively 150% and 363% RWS
It is ideal composition for women who care for themselves - 100% RWS of iron, folic acid and biotin (improving the appearance of the skin, hair and nails).
Vitapak has a large dose of organic potassium and magnesium to solve the problem with muscle cramps
Thanks to the high dose of chromium, the product is ideal for people who get an uncontrollable desire for sweet products (containing sugar).
Valuable information for people suffering from anemia - contains a high content of iron, vitamin C, folic acid and vitamin B12.
Katso lisää